We're prepared to meet the challenges of hallway painting head-on.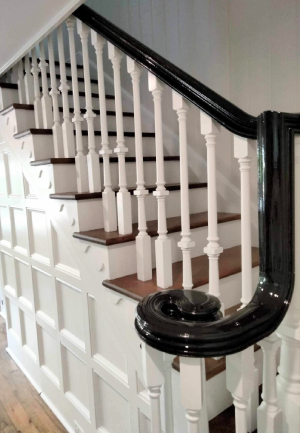 At Worth Painting, LLC, we provide high-quality interior and exterior painting services for our customers who want to ensure their homes and businesses look professional and attractive. One of the essential interior painting services we provide is hallway painting. We know what you're thinking – how hard can painting a little area like a hallway be? Allow us to explain.
Many people think that ceilings and high areas are the only challenging parts of interior painting, but our team knows that hallway painting presents its own unique set of challenges. The narrow space can be difficult to maneuver in, and the lighting often presents difficulties with achieving consistent-looking color. Hallways also tend to have more areas that require special techniques like cutting in and trim work, making it a job best suited to a trained team like ours.
Another challenge of hallway painting is that hallways tend to be high-traffic areas, so it's essential to choose a paint that can withstand a constant flow of people. Our paint experts are always happy to consult with you about your paint options, including colors and finish, helping ensure you get a final product that looks great and will stand the test of time.
We've got plenty of experience with hallway painting and are always prepared to meet the challenges it presents head on. Our team proudly serves home and business owners in and around the Kernersville, North Carolina area, so if you've been considering updating your hallways with a new coat of paint, don't hesitate to contact us.
---
At Worth Painting, LLC, we offer hallway painting services in Winston-Salem, King, Pfafftown, Lewisville, Clemmons, Advance, Bermuda Run, Bethania, Kernersville, Rural Hall, Tobaccoville, Pinnacle, Pilot Mountain, Walkertown, Mount Airy, Walnut Cove, Oak Ridge, Germantown, and East Bend, North Carolina.