Enhance your home's curb appeal with professional painting services.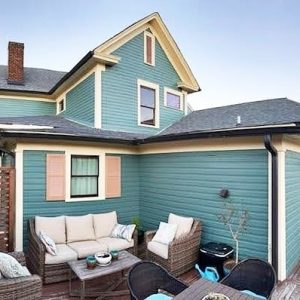 Does your house showcase who you are? If the first impression you see from the curb isn't one that you enjoy, bring life into your home by refreshing its exterior! House painting provides an instant facelift with a low investment and minimal disruption. A fresh coat of paint will do wonders for welcoming family and friends to your house and improve your property value with increased curb appeal.
There are many benefits offered by house painting, beyond the aesthetics. Paint can protect your home's exterior by adding an extra layer of protection against weather, dust, and insects. Your siding and trim will last longer thanks to the seal provided by paint against all kinds of adverse conditions. Not only will your home look attractive, but painting will also save you money on maintenance needs – a huge plus!
When it comes to choosing the exterior colors for your home, it can be a big choice to make, since it changes so much about its appearance. A classic choice is to go neutral for the main color, and then have fun with your accent colors on your front door or shutters. You can also take existing elements into consideration, such as brick or stone, and choose colors that will complement them. Whatever color palette you love, you can rely on us to make your vision come to life. Our house painting expertise will not only provide excellent results, but bring attention to detail that demonstrates how much we care about your home.
Ready to make your home look like the best on the block? Our team at Worth Painting, LLC has the dedication and experience to make it happen. We serve the Winston-Salem, North Carolina area and would love to provide a free estimate on your house painting project.
---
At Worth Painting, LLC, we offer house painting services in Winston-Salem, King, Pfafftown, Lewisville, Clemmons, Advance, Bermuda Run, Bethania, Kernersville, Rural Hall, Tobaccoville, Pinnacle, Pilot Mountain, Walkertown, Mount Airy, Walnut Cove, Oak Ridge, Germantown, and East Bend, North Carolina.