If you want a detail-oriented, highly experienced team to handle your kitchen painting, turn to us.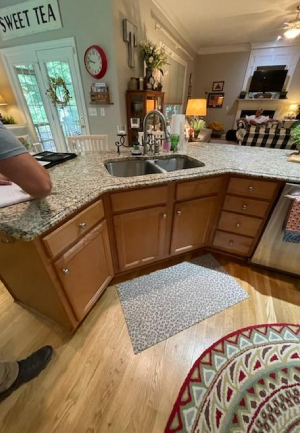 Your kitchen is one of your home's most frequently used and seen rooms, so you want to be able to love every aspect of it. Even if you aren't an avid home chef and tend to opt for takeout more often than cooking, you likely use your kitchen as an eating and gathering area for you and your loved ones. Although the layout and appliances are essential for the functional aspects of a kitchen, having the walls and ceiling be colors that you love and that serve as a reflection of your personality can help take it from just another room to the heart of your home.
However, kitchen painting is not for the faint of heart. All those cabinets, appliances, fixtures, and countertops can make it a real challenge for the untrained DIY-er, so if you're considering doing some kitchen painting, our team here at Worth Painting, LLC encourages you to give us a call and allow our skilled professionals to handle it for you.
Our team has decades of experience to draw on, and we love helping our customers unlock their kitchen's full potential. When you reach out to us about kitchen painting, we'll start by meeting with you to discuss your vision and how we can help you make it a reality. We use only premium paints from respected brands, and we can help you decide between your options for finish and color. We'll take the necessary measurements to provide you with a precise quote, and if you decide to accept it, we'll schedule your kitchen painting service as soon as possible.
We're committed to earning your complete satisfaction, so if there is anything you're unhappy about with our work, we encourage you to let us know, so we can fix it. We understand that any job worth doing is worth doing well, so if you're looking for a highly professional, detail-oriented painting company to handle your next kitchen painting project in Winston-Salem, North Carolina, give us a call!
---
At Worth Painting, LLC, we offer kitchen painting services in Winston-Salem, King, Pfafftown, Lewisville, Clemmons, Advance, Bermuda Run, Bethania, Kernersville, Rural Hall, Tobaccoville, Pinnacle, Pilot Mountain, Walkertown, Mount Airy, Walnut Cove, Oak Ridge, Germantown, and East Bend, North Carolina.